Female Hottie: Bridget Marquardt
Bridget is best known as the 3rd member of the original trio of Hugh Hefner's girlfriends (with Holly Madison and Kendra). After their breakup, Bridget went on to host her own show on Travel Channel,
Bridget's Sexiest Beaches
, that lasted for a season. Now, she is hearing up for her own reality show and spending time with her boyfriend. she also has a Master's in Communication, so I guess she's not as air-headed as she seems.
Male Hottie: Andy Whitfield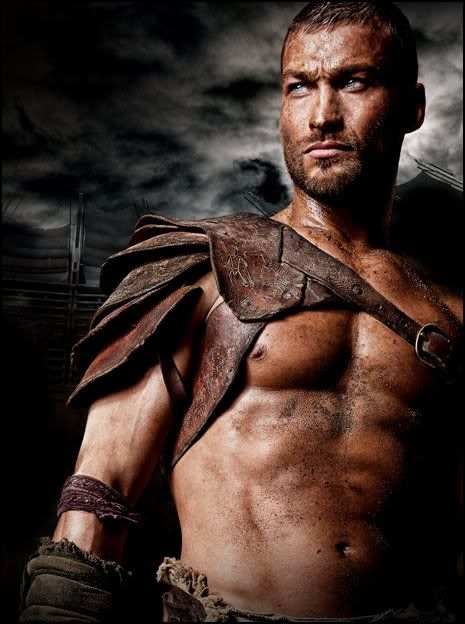 Andy Whitfield is currently starring on HBO's
Spartacus: Blood and Sand
. For some reason, women find this guy hot, so I figure he should go here. He has just recovered from a bout with Non-Hodgkin Lymphoma, which postponed shooting of the second season, but is expected back in October. Whitfield hasn't been seen in much else here in the states, but in Australia he is pretty well known.
Random Hottie from a movie or TV show seen this week: Natalya Rudakova
I have a thing for redheads, so it really shouldn't be a surprise that this week's random hottie is the red-haired hottie from
Transporter 3
. Natalya was literally discovered on the street going to her job as hair dresser. Hopefully, we'll see more of her soon. In the meantime, isn't it great to see someone with red hair and freckles instead of the usual cookie cutter blondes and brunettes who have more botox than blood in their veins?
MILF: Tisha Campbell-Martin
This week's MILF I've had a crush on since her days as Gina on the hit show
Martin
. Since then she's gone on to star in a few movies and shows, most notably
My Wife and Kids
. Sure she's packed on a few since her days as Gina, but you can blame that on her two boys (just look at how big she was with that second one...Wow!
Classic/Retro Hottie: Carroll Baker
This week's classic hottie may best be known for being a sex symbol overshadowed in her time by the likes of Marilyn Monroe and Jayne Mansfield. Carroll Baker's biggest break may very well have been her part in the epic western
How the West Was Won
, but she also starred in movies such as
Baby Doll, The Sky is Falling, But Not For Me, The Carpetbaggers,
and a slew of others. In 2003, she retired from the business, and is still alive in California at the age of 79.