I'm a fan of the WWE. I'm not ashamed to say it. I know it's fake and whatnot, but just like women get addicted to soap operas, and other people get addicted to reality TV, that's the same way I am with WWE. Admittedly, since I've moved down here with my gf, I haven't had the chance to really watch. I love the nights when she goes out and I get to watch Smackdown...lol
Anyway, I was reading some other blogs and message board the other day and I was utterly repulsed by the mere thought that they called two of my favorite divas fat!
This is Cherry: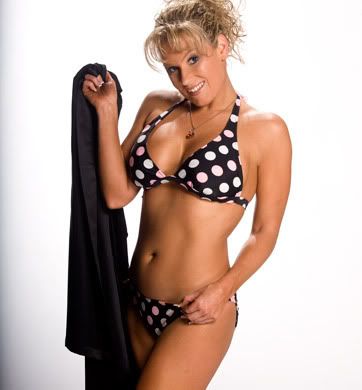 Isn't she a cutie? Now, looking at those photos, tell me, would you say she's fat? I find it hard to believe that anyone can say that. Yes, she's not the toothpick like most of the other divas, but a) it's a welcome change, and b) remember Trish Stratus? She was near the same size when she first appeared on WWF(that's what it was back then).
Now, if you'll notice, Cherry is dressed like a girl from the 50s. That's her gimmick. I like it, but apparently there are those that think her choice of clothing is making her look bigger than she is. Whatever! Cherry isn't the only one they seem to have weight issues with...
Candace Michelle: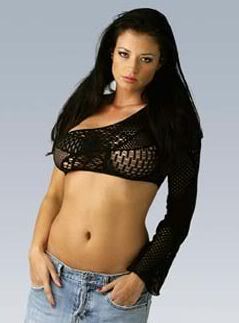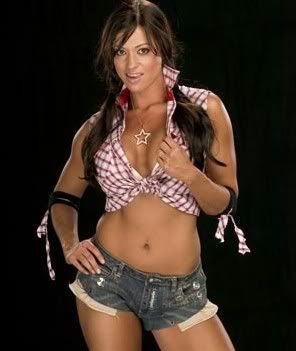 Not exactly what you think of when you think of a "meatbag", right? Well, that's what they were calling her. Only thing fat about Candace are her implants. Ridiculous. Same as with cherry, just because she's not a toothpick wither her backbone sticking out and ribs showing, she gets labeled as fat!
These are just 2 of the divas that get the label of being fat, there are others, such as Beth Phoenix, Melina, and Victoria that get it as well, simply because they don't look like Michelle McCool or Maryse.
When did we in this country get so hooked on weight? Its no wonder a lot of girls and women are starving themselves to death. If the reactions to these ladies are any indication of what society thinks of women with actual healthy looking bodies, then I am ashamed to lived in this society.